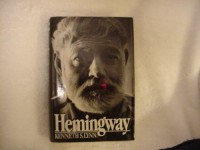 I read some of Hemingway's work when I was at university and I wasn't impressed. The bull-fighting, the drinking, the over-the-top machismo didn't appeal to me. So it was no more Hemingway for me for several decades. Then last year, in preparation for a holiday in Paris, I read "A Moveable Feast" and was intrigued. The prose was wonderful. Likewise the evocation of 1920s Paris. The impression I gained of Hemingway as a man was less positive: mean-spirited was the term most forcefully brought to mind. However, reading that book, being in Paris and walking in Hemingway's steps, developing an interest in the so-called Lost Generation, reading some more of Hemingway's fiction and seeing him through the eyes of the biographers of other Lost Generation figures led me to this book. It covers Hemingway's life from his birth in Oak Park, Illinois to his suicide in Idaho, with all of the high and low points in between.
Lynn employs a psychological approach, which was initially mildly annoying. (Hem's problems were all his mother's fault, don't you know!) But as I read further I became convinced that Lynn was on to something. Hemingway's relationship with his parents - and particularly with his domineering mother, whom he blamed for his father's suicide - clearly had a lasting impact not just on his attitude to life, but also on his fiction. The writer John Dos Passos, Hemingway's close friend until they fell out during the Spanish Civil War, described Hemingway as the only man he'd ever known who truly hated his mother. That observation appears to have been well based and it would have been impossible for an emotion that strong not to spill over into Hemingway's fiction.
Another issue upon which Lynn focuses is Hemingway's sexual ambivalence, the expression of which is a fascination with androgyny. This aspect of Hemingway's make-up Lynn traces to his mother's treating him as his older sister's twin and dressing him as a girl for much longer than it was usual to dress boys as girls in the early 20th century. Whether or not Lynn's correct about the cause, his thesis that Hemingway was fascinated with androgyny is well supported by references to Hemingway's fiction and presents a different view to that of Hemingway's public person of aggressive masculinity. It also gives some credence to Zelda Fitzgerald's description of Hemingway as "bogus" and "phony as a rubber check". She may have discerned something about Hemingway that was not part of the myth he cultivated so assiduously.
As far as literary biographies go, this is an excellent one. It's much more than a list of dates and achievements and it deals with the less attractive aspects of Hemingway's personality and behaviour in a fair and balanced way. The analysis of Hemingway's literary output is also fair and balanced. The prose is easy to read, neither simplistic nor overly academic in tone, and the work is amply footnoted and supported by an extensive bibliography. It has renewed my interest in reading more of Hemingway's fiction, at least the best of it. It has also allowed me to feel empathy for the confused, mentally and physically ill man who wrote "A Moveable Feast". Hemingway's journey from confident young man sure that his destiny was to become a great writer, to broken, paranoid, alcoholic, suicidal wreck of a man, is heartbreaking.